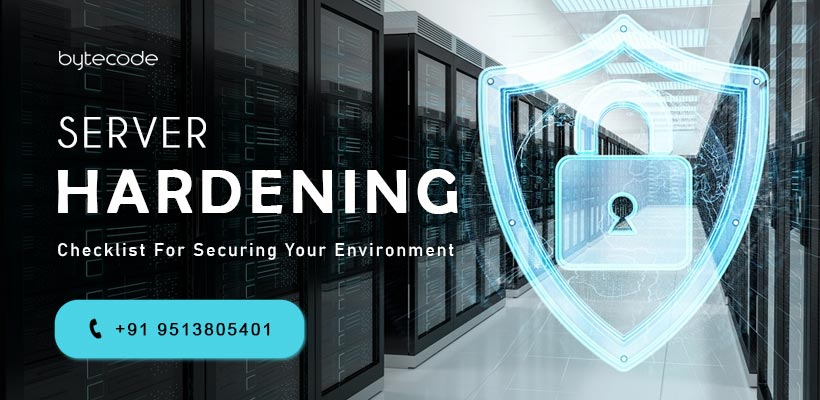 Server Hardening Service in Delhi
Server Hardening Service in Delhi basically means turning a soft or fragile surface into a stronger one and making it more impenetrable to damage. Servers these days are consistently under attack. Server Hardening Service in Delhi |Hence, the best protection against such attacks is Server Hardening service  in Delhi which is a well-developed procedure within your company, or outsourcing of such activity to a specialized and well-known Server Hardening agency.Server Hardening Service in Delhi |
IT securities and Consulting Services
Want to Secure Your IT Infrastructure With Us.
Bytecode Security is a leading Server Hardening Security (in Delhi) company that is well-known for its out of box thinking and technical expertise as our Specialized Bytecode Security team has bagged certifications in CEH, CREST, OSCP, CISM, CISA, CISSP, ISO 27001.Server Hardening Service in Delhi |
Our team is the Best VAPT service (Server Hardening Service in Delhi) provider in Delhi. The company's valuable viewpoints, suggestions, and ideas are the benchmark for the industry. We also provide the Best VAPT services for startups in India, Singapore, Canada, UK, the USA, Dubai.
We are living in an era where nearly every computing resource is susceptible to online attacks. Hence, Server Hardening is a must and should be carried out on your servers. Server Hardening Service in Delhi |
Server Hardening Service Methodologies
Server Hardening Testing Tools
Benefits of Server Hardening Service
Frequently Asked Questions
Server Hardening Service in Delhi
We Provide 24 x 7 Support
Bytecode Cyber Security Unit of Craw Security
Frequently Asked Questions
Server Hardening Services