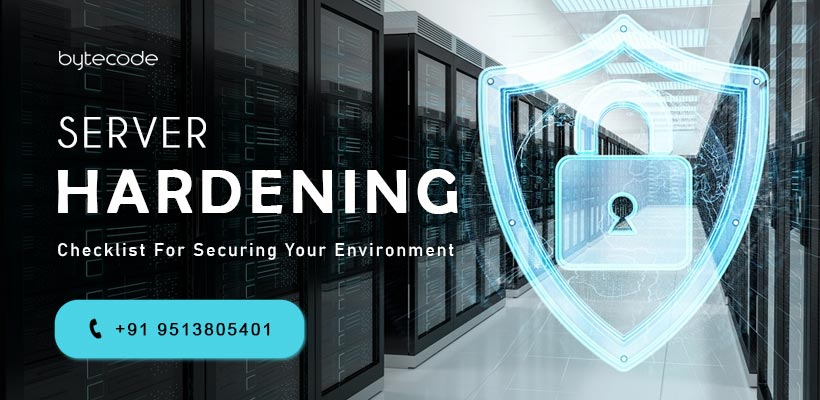 Best Server Hardening Service in India
Server Hardening Service in Delhi basically means turning a soft or fragile surface into a stronger one and making it more impenetrable to damage. Servers these days are consistently under attack. Server Hardening Service in Delhi |Hence, the best protection against such attacks is Server Hardening service  in Delhi which is a well-developed procedure within your company, or outsourcing of such activity to a specialized and well-known Server Hardening agency.Server Hardening Service in Delhi |
It's the process of securing servers by installing essential security features to protect it against online threats, which can be hard to detect. The main objective of server hardening is to reduce the server's access to risks.
Moreover, one can install such security measures to improve security prevention features. Some of the usual practices involved in server hardening are as follows.
Patch Management,
Secure Configuration,
Access Control,
Network Security,
System Monitoring & Logging,
Regular Backups,
Security Auditing & Penetration Testing, and
Incident Response Planning.
Server Hardening Service Methodologies
Server Hardening Testing Tools
Benefits of Server Hardening Service
Types of Hardening Techniques
Operating System Hardening
Professionals use OS by executing the following things.
Applying Patches & Updates,
Configuring Secure Settings,
Disabling Unnecessary Services & Protocols, and
Install Access Controls.
2. Network Hardening
It mainly focuses on protecting network devices, such as
Routers,
Switches, and
Firewalls.
Moreover, professionals use various security measures to protect networks against online threats, such as.
Installation of Secure Configuration,
Applying Access Control Lists (ACLs),
Encryption Protocols,
Intrusion Detection & Prevention System (IDS/ IPS).
3. Application Hardening
Mobile Apps also need security against online threats, which is possible with.
Input Validation,
Output Encoding, and
Secure Coding Practices.
That is to protect it against threats like – Cross-site scripting & SQL Injection.
4. Database Hardening
In the end, all we need is that our data should stay out of the reach of adversaries. That's because they have ulterior motives with the tricks they use against our security measures to steal our confidential data. For that, one can use the following techniques.
Security Patches,
Configuring Authentication Mechanisms,
encrypting sensitive data, and
implementing access controls and audit trails.
5. Web Server Hardening
Now, it's the turn of web servers like – Apache/ Nginx. For that, one can make use of the following techniques.
Secure Configuration,
SSL/ TLS Encryption,
Find Security Flaws, and
Observe unauthorized access.
6. Virtualization Hardening
It is also needed for virtualized environments, such as – Hypervisors & Virtual Machines. Moreover, it includes.
Configuring Secure Virtual Network Configurations,
Access Controls, and
Securing Virtual Machine Images.
7. Mobile Device Hardening
As with others, mobile devices also need hardening for security against online threats. For the protection of mobile devices, one can use the following aspects.
Strong Passwords/ Biometric Authentication,
Encrypting Data,
Using Device Management Solutions, and
Applying Patches & Updates.
8. Cloud Hardening
Cloud Environment gave us the benefit of securing our data online, where destroying it will be a bit tough task to accomplish. However, online criminals are able to trespass the security measures and enter the databases without any trouble.
For that, one needs to secure cloud-based infrastructure & services via the implementation of the following things.
Access Controls,
Encrypting Data,
Configuring Secure Network Connections, and
Monitoring for Unauthorized Activities.
9. Physical Hardening
Company's physical infrastructure, like – Servers & Networking Equipment, also need protection against online threats. One can deploy the following security measures to enhance security.
Physical Access Controls,
Surveillance Systems, and
Secure against threats like fire & water damage.
How Does a Server Hardening Process Work?
Identify Security Requirements
Testing the security measures is needed to suppress security risks. Sensitivity of data & services hosted on servers, compliance requirements & reducing online threats are necessary.
2. Server Configuration Review
Test the server's configuration to find possible vulnerabilities. It includes various aspects, such as.
Test Settings related to User Accounts,
Access Controls,
Network Configuration,
Services, and
Authentication Mechanisms.
3. Patch Management
Your security patches should be ready for the following things as well.
Operating System,
Software, and
Firmware.
Frequently take a look at the latest releases & security advisories to find and install essential patches.
4. Access Control and Authentication
In order to block unauthorized access to the server, you can take support of strong access controls & authentication mechanisms.
This includes
Setting up Proper User Accounts,
Strong Password Policies, and
Multi-Factor Authentication.
5. Network Security
Protecting networks against online threats will be easy with the help of the following installation.
Configure Firewalls,
Network Segmentation,
Intrusion Detection/ Prevention Systems, and
TLS.
6. Harden Services
You can also get assistance from hardening services. It includes.
Review and secure services running on the server.
Disable unnecessary services and protocols.
Configure services with secure settings, such as
a) Secure Encryption and
b) Access Restrictions.
7. Logging and Auditing
To monitor server activities & detect potential cyber-attacks, use logging and auditing mechanisms.
You can also configure logs to catch up to relevant events, including
Login Attempts,
Access Control Changes, and
Suspicious Activities.
Frequently observation of logs can prevent unwanted unauthorized access.
8. Security Testing and Vulnerability Assessment
Testing your security measures is also important with techniques such as
Penetration Testing and
Vulnerability Scanning.
That is to recognize security flaws in the server's defenses. After that, suggesting solutions will be easy.
9. Documentation and Policies
After you have completed the security testing process, you should write it down the following things.
Server's Configuration,
Security Measures, and
Procedures for Maintaining Security.
Via this, one can enhance stronger security measures to cover up the masses.
10. Ongoing Monitoring and Maintenance
Once you're done with the installation of the latest security measures, you should follow the below aspects.
Observe the server's security posture,
Updates & Patches, and
Be aware of emerging security threats & techniques.
How Does a Server Hardening Process Work?
If you want to manage the security of the server, you need to fulfill the following tasks and objectives.
Installation & Configuration,
Security Management,
User Account Management,
Monitoring & Performance Optimization,
Backup & Recovery,
Logging & Auditing,
Software & Application Management,
Virtualization & Containerization,
Troubleshooting & Issue Resolution,
Compliance & Policy Management, and
Capacity Planning.
The Importance of Server Hardening
Protection against Cyber Attacks
Adversaries is always in search of breaching confidential data, disrupting services, and having illegal access. By using server-hardening security techniques, one can reduce the chances of cyber attacks.
2. Data Security
One that saves confidential data online is Server. That holds the responsibility of saving a huge amount of data related to the following things.
Client's Data,
Financial Data, and
Intellectual Assets.
There, the server hardening supports preventing unauthorized access to data, data privacy, and validation of data protection policies.
3. Preventing Service Disruptions
Threats over servers can cause the following damages.
Service Disruptions or Downtime,
Affecting Business Operations,
Customer Trust, and
Revenue.
It can prevent unwanted risks that'll directly affect the security against online threats.
4. Mitigating Exploitation of Software Vulnerabilities
In server hardening, professionals take care of security patches & updates. Moreover, it supports recognizing loopholes in the server's OS and Software. This will prevent the exploitation of security flaws executed by adversaries.
5. Access Control and User Management
Appropriate server hardening include installing secure user controls & user management measures. It'll make sure that only official users have access to the server, which will definitely reduce the risk of suspicious activities/ data breaches.
6. Compliance with Security Standards
Several Sectors & Firms abide by strong security policies. Server Hardening ensures fulfillment of needed security with the installation of the following security measures.
7. Protection against Malware and Ransomware
Server hardening measures such as follows can help in the prevention of malware infections and ransomware attacks.
Implementing Firewalls,
IDS, and
Antivirus Software.
8. Incident Response and Forensic Analysis
If you face any unwanted security breach, the hardened server can help you with features such as.
Incident Response and
Forensic Analysis.
9. Proactive Security Stance
It helps organizations in managing the security analyzing process and installation of preventive measures. Instead of taking immediate action, server hardening assists in preparing preventive measures and reducing the incidents from taking place.
10. Safeguarding Business Reputation
It can also be beneficial for your business reputation in the eyes of the clients, customers, and employees working in your organization, as data & security breaches can ruin your image in front of your admirers.
Deploying server hardening techniques and making security your priority can make a defense against such online threats that can put you in danger.
Frequently Asked Questions
About the Best Server Hardening Service in India
We Provide 24 x 7 Support
Training Available 24*7 Call at +91 9513805401
Bytecode Cyber Security Unit of Craw Security
Frequently Asked Questions
Server Hardening Services