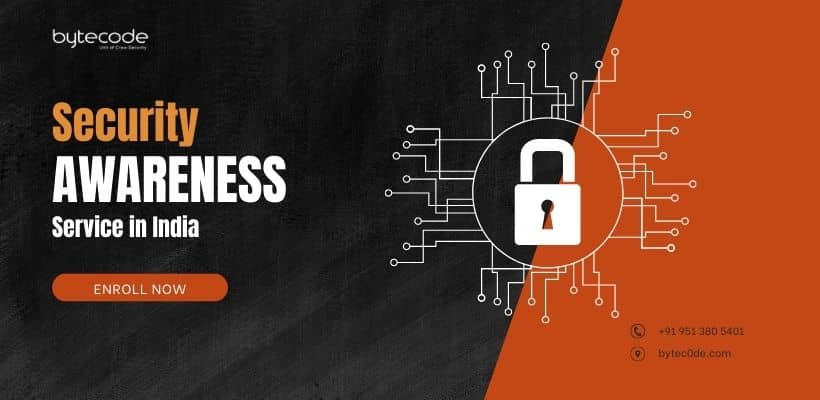 Security Awareness Service in India 2022
The world is smoothly moving toward a time where intelligent machines and internet-based equipment will take over our lives and make us their slaves by providing us with the utmost pleasures of innovation and machinery advancement.  In addition, there are most chances of getting our databases hacked with reference to crucial information at the hands of a black hat hacking professional.  Moreover, in regard to being prepared for sudden cyber attacks, bytecode Security is enhancing the knowledge quotient of your organization's employees with the right kind of Security Awareness Service in India 2022.
What is Security Awareness Service?
As the name suggests, Security Awareness Service refers to a procedure in which a basic exposure is provided to the employees of an organization concerning main security flaws and varied methodologies of cyber attacks that can be employed by a professional black hat hacker. Moreover, these ultimate programs are destined to assist users and employees concerned with the role they play in supporting to tackle information security breaches.
Hence, to understand the consequences that can happen at any time during a sudden cyber attack by a malicious threat actor, one can take Bytecode Security's primetime Security Awareness Service in India through highly professional pentesting professionals.
Why do your employees need Security Awareness Service?
Any employee in any whatsoever organization hailing from any particular niche can be a weak link that can offer some crucial and highly confidential information to the malicious intent person. Hence, it is highly recommended for every organization to take Security Awareness Service in India by Bytecode Security's highly trained professional experts.
Moreover, in order to provide the employees with the necessary tactics and skills, an owner of a business needs to have Security Awareness sessions on one premise.
Use Phishing Tests To Increase Security Awareness
It's always easy and convenient to check the knowledge quotient related to the basic IQ concerns by setting up a phishing email test campaign by Security Awareness Service in India by bytecode Security genuinely conducive platform.  Moreover, in mere few minutes of time devotion, you will be able to deploy a phishing template to your employees, BDAs/ BDEs, or your non-office staff.
In addition, you will come up with the following pattern of work model while operating on a phishing template by Bytecode Security's highly trained professionals:
Employ real-time de-weaponized attacks, or you can say, our actual life single or multi-page templates that will undoubtedly cover almost everything, such as from phone-based promotions and package tracking to fake news and password resets due to any unauthorized logins.
Swiftly customizing your phishing text and landing pages to reflect anticipated attempts against your employees.
Notifying which employees will obtain your phishing email tests, moreover, which particular templates they would receive, and when you wish to initiate them?
Why choose Security Awareness Service from Bytecode Security?
There are multiple benefits that can be utilized by users of our Security Awareness Service in India by Bytecode Security's highly trained professionals having many years of authentic experience.  In addition, we offer many Critical Security Awareness Service Topics, such as the following:
Phishing Awareness
Password Security
Privacy Issues
Insider Threats
CEO/ Wire Fraud
Data in Motion
Office Hygiene
Moreover, Bytecode Security provides a genuine range of services by which you can be sure-shot to confirm all the loopholes in the knowledge quotient of your employees and find an overall refreshed staff with more suitable knowledge related to your product and services and better awareness regarding security flaws and cyber attacks.  In addition, we deliver some crucial steps in guiding your staff with the following set of knowledge procedures that will highly entertain your manpower's knowledge criteria to the optimum level, which is difficult to penetrate for a malicious threat actor via tactics like Social Engineering, Phishing, etc.
Subsequently, we have given some points for your reference to jot down that will help you to understand the pathway we take to deliver our crucial KT (Knowledge Transfer) sessions to your employees:
Lecture
Case studies
Group discussions
Reflection
Assessment – Multiple Choice Questions
Develop a Security Awareness Plan in the finale
Frequently Asked Questions
About HIPAA Service in Delhi
We Provide 24 x 7 Support
Training Available 24*7 Call at +91 9513805401
Bytecode Cyber Security Unit of Craw Security
Frequently Asked Questions
About COBIT Framework Service in Delhi