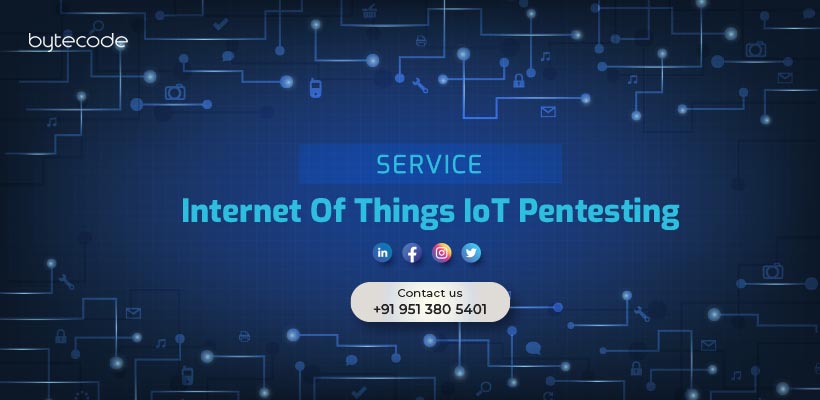 IoT Penetration Testing Services in India
There are many world-class IoT Pentesting Services offered by several developers, designers, and security analysts that do take care to propose the best security practices under their esteemed expertise.  In addition, to monitor all the records of the interconnected IoT devices over safe broadband, we need sincere IoT professionals to handle them well in every worse situation.
Ahead, we can nicely tell the mechanism of the IoT devices that they work on the databases saved on the cloud, network, systems, and the other corresponding platforms.  In addition, this recorded data can be in high-level danger because of the online threats available in the marketplace that are duly inclined to steal the crucial and sensitive information possessed by these datasets among IoT devices.
Hence, in order to patch every security flaw present in the shape of vulnerabilities, threats, and loopholes that can proactively provide backdoor access to an adversary looking out for ransom if one is successfully able to penetrate through them.
The high-time process of taking out all the available vulnerabilities, threats, and loopholes of the Internet of Things Devices is immensely known as IoT Penetration Testing.  In addition, this process is duly executed by several duly experienced pentesting professionals with world-class IoT Penetration Testing Skills to safeguard the datasets with the greatest secrecy.
In this regard, IoT Penetration Testing from a verified source, like Bytecode Security, offers the best penetration testing services in India under the supervision and expertise of highly qualified, duly certified, and nicely experienced pentesting professionals:
Initially, the working team of pentesting professionals will attempt to map the overall attack surface that can be compromised with sudden cyber attacks.
Subsequently, they would try to search for the available vulnerabilities, threats, and loopholes.
After that, the team would try to penetrate the IoT devices with their efficient methodologies, skills, and mechanisms, utilizing those vulnerabilities they found in the previous step.
Subsequently, if they get succeed in penetrating the corresponding IoT devices, they try to find relevant security patches for the flaws.
In the final step, a report is documented on the insights obtained from the entire process.
Lastly, we are fully capable of saying that the Internet of Things (IoT) Security Testing Services are pretty helpful for those enterprises that usually utilize IoT devices for most of their organizational functions.
VAPT IoT Penetration Testing Services
Bytecode Security has a very distinguished approach to tracking down every sort of vulnerability, threat, and loophole that can offer backdoor entries to the malicious threat actors that are genuinely looking out for their next prey.  In addition, Bytecode Security is the VAPT Service Provider in India and offers the best IoT Penetration Testing Services in India with the utmost expertise executed by international-standards pentesting experts.
We deliver a very decent Approach & Methodology to carry out useful IoT Penetration Testing processes that can literally obtain every vulnerability with their corresponding security patches.  Some of the main steps that we take during our IoT Security Testing procedures are mentioned below:
Frequently Asked Questions
About IoT Pentesting Service in India
We Provide 24 x 7 Support
Training Available 24*7 Call at +91 9513805401
Bytecode Cyber Security Unit of Craw Security
Frequently Asked Questions
About IoT Pentesting Service in India

R31/ 32, 2nd floor Vikas marg,
Shakarpur, New Delhi 110090
Jandu Tower
Training and Certification Course in Delhi