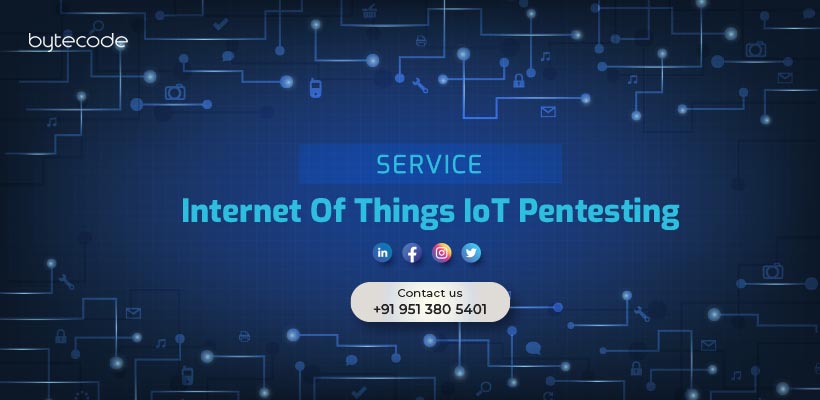 IoT Pentesting Service in Delhi
Bytecode Cyber Security is a leading IoT Pentesting Service in Delhi | IoT Penetration Testing that is well-known for its out of box thinking and technical expertise as our Specialized Cyber Security team has bagged certifications in CEH, CREST, OSCP, CISM, CISA, CISSP, ISO 27001.
This kind of testing prevents any device connected to the internet from being hacked. In IoT Pentesting Service In Delhi, our VAPT experts use OWASP Top 10 and SANS 25, industry-leading security standards used to gain fruitful results. Many internet attacks include users clicking on an unknown link or opening an infected mail.
Our team is the Best IoT Pentesting Service in Delhi provider as well as best VAPT service provider in Delhi. Company's valuable viewpoints, suggestions and ideas are the benchmark for industry. Apart from Internet of Things Pentesting Service we also provide Best VAPT services for startups in India, Singapore, UK, USA, Dubai.
Trespassers have more options to breach an Internet of Things system, as its construction consists of a number of components that can be a hacker's target. Hence, we use the most comprehensive IoT Pentesting Service In Delhi methods to locate, assess the vulnerabilities and provide working solutions to overcome them.
An IoT Penetration Testing Service In Delhi includes all IoT system elements.
Benefits of IoT Penetration Testing
Frequently Asked Questions
About IoT Penetration Testing Service in Delhi
We Provide 24 x 7 Support
Bytecode Cyber Security Unit of Craw Security
Frequently Asked Questions
About IoT Pentesting Service

R31/ 32, 2nd floor Vikas marg,
Shakarpur, New Delhi 110090
Jandu Tower
Training and Certification Course in Delhi