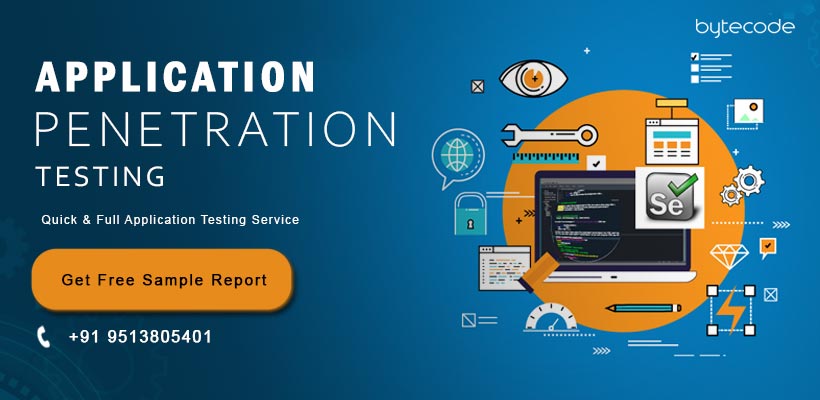 Application Penetration Testing Service In India
Many enterprises are promoting themselves that they have taken many primetime Application Penetration Testing Services in India offered by several highlighted cyber security agencies.  In this context, it is quite evident that businesses genuinely do require highlighted application penetration testing services just to make sure that the digital assets possessed among their applications are duly safe and secure from any unauthorized access by a malicious threat actor.
In today's world, almost every business takes the help of mobile applications to interact with their customers to maintain healthy relationships and for flourishing business growth.  To maintain the security of Applications, the backend team works so hard.  In addition, they need to look into the varied configurations of applications to check out any vulnerabilities, threats, or loopholes that can be mitigated by implementing some expertise of a working team of application penetration testing professionals. 
The application penetration testers run some series of tests and track down every single vulnerability that can assuredly give access to a black hat hacking professional.  Moreover, the enterprises which neglect to take proper application penetration testing services facilitated by a good cyber security agency like Bytecode Security would have to pay a huge amount of money to hackers in ransom after losing all its client databases to them.
What is Penetration Testing?
Penetration Testing is a process in which an ethical hacking professional or a team of them tries to find out the vulnerabilities possessed in an IT infrastructure to upgrade the cyber security posture of the same IT ecosystem to the utmost possible level.  In an application, it is highly recommended to check the security quotient before any mishap could take place.  Hence, almost every business thinks of taking an efficient application penetration testing service in India from a good cyber security agency.
The varied protocols of penetration testing would certainly help an organization to grow from a different perspective, duly free from any kind of tension of getting hacked or data breached by an illicit black hat hacking professional.  In this league, Bytecode Security, the Best VAPT Services Provider in India, will undoubtedly prove to be a game changer for an organization willing to take esteemed penetration testing services by a duly certified pentesting professional.
Application Penetration Testing Service
Now that you have got the info about Penetration Testing, you should understand the vitality of getting penetration testing services, especially for the applications, which are mostly connected to the clients, and any user can connect with the organization through it.  Hence, it is highly exposed to any person, which is why it can nicely be exposed to malicious threat actors among the common users.
Therefore, we need to secure the applications in the first place; that could be the reason for the downfall of an organization by its data breach.  In addition, application penetration testing service would be the most important aspect of an organization that is dealing with storing client databases in one's IT infrastructures.
Application Penetration Testing Service Checklist
The working penetration testing professionals have to undergo many scanning processes to check several aspects that could be mentioned in an Application Penetration Testing Service Checklist made by the working team itself.  As a result, it can be considered that no stone will remain unturned that could give backdoor access to a black hat hacking professional willing to get an entry from any vulnerability in the configuration of the corresponding applications.
In this regard, Bytecode Security's efficient pentesting professionals work tirelessly to offer world-class Application Penetration Testing Services to our beloved clients.  Moreover, below is the necessary Application Penetration Testing ServiceChecklist:
Contact form

Proxy server

Spam Email Filter

Network Firewall

Security Vulnerabilities

Credential Encryption

Cookies

Login Page

Error Message

Usernames & Passwords
File Scanning

XSS

Session Hijacking

Brute Force

DoS Attack

Directory Traversal

Open Ports

HTTP Method

Access Permissions
Application Penetration Testing Service Stages
There are multiple stages in which a nicely working penetration tester works to implement world-class Application Penetration Testing Services in the following steps:
As a result, these steps can confirm the security posture of a corresponding application that can genuinely assist an organization in securing its customers' datasets.
Application Penetration Testing Vulnerabilities
These are the primetime Application Penetration Testing Vulnerabilities in the following that can give access to black hat hacking individual preying their illicit eyes on the official datasets of an organization:
Injection

Broken Authentication

Sensitive Data Exposure

XML External Entities (XXE)

Broken Access Control

Security Misconfiguration

Cross-Site Scripting (XSS)

Insecure Deserialization

Using Components with Known Vulns

Insufficient Logging & Monitoring
Frequently Asked Questions
About Application Penetration Testing Service in India
We Provide 24 x 7 Support
Training Available 24*7 Call at +91 9513805401
Bytecode Cyber Security Unit of Craw Security
Frequently Asked Questions
About Application Penetration Testing Service in India