Best Cyber Security Course in Delhi with Job Assistance
Cyber Security Course is offered to the Aspirants to introduce them to cyber security and cyber-attacks. Most commonly, the victims of cyber attacks were unaware of the malicious paths that the attacker chooses to victimize innocents.
However, one can save themselves from being targeted. A decade ago, only Govt. Officials were allowed to learn such techniques to block adversaries' ways to their databases. However, a commoner also needs protection from such attacks. Have you wondered why only innocents get trapped first? Let's learn how it works and how professionals handle it.
Training Available 24*7 Call at +91 9513805401
Cyber Security Course in Delhi
1 Year Cyber Security Diploma
This authentic 1 Year Diploma in Cyber Security Course in Delhi NCR location is fully optimized by several information security experts through a genuinely verified curriculum by many professionals at various stages.  One will grab all the necessary knowledge to become a superb and successful cyber security personnel in any reputed IT organization or a budding start-up in the near future after successfully completing this magnificent cyber security diploma course.  A student will be having the below-mentioned courses one by one to understand the fundamentals of cyber security so nicely and effectively.
If you are searching for the Best Cyber Security Course in Delhi, you can contact Bytecode Security. They have been offering cyber security courses to aspirants for a long time and practicing with the latest techniques and tools to enhance organizational cyber security measures. This will help companies fight against adversaries trying to set traps for innocent people and individuals to make monetary benefits with ill intentions. However, many skillful people can help innocent people increase their system's security measures to protect their databases against adversaries with the help of various techniques and tools. Bytecode Security can be the Best Institute for Cyber Security Course in Delhi to offer you the Best Cyber Security Course in Delhi for the introduction of cyber security fundamentals. What they offer you is the best calculated and synchronized cyber security training and certification for a better learning experience under the guidance of professionals. What you expect from the Best Cyber Security Course in Delhi is that you can learn after getting in contact with Bytecode Security. This is one of the Best Institutes for Cyber Security Courses in Delhi. It has already made many people think broadly about Cyber Security and Information Security to learn something new in this ever-growing field. Information & Technology have become an understandable and acceptable part of human life. However, you need to know the need for cyber security and why this is becoming popular as a career option for students from various fields. What are you waiting for? Contact, Now!
Expand your career opportunities with
Introducing 1 Year Diploma in Cyber Security
Cyber Security Courses after 10th
In the 10th standard, almost everyone thinks about taking a single stream from every available stream, such as Commerce, Arts, and Science. However, if at that age you got to know what Cyber Security is, then you need an institute offering Cyber Security Course after 10th in Delhi with a transparent syllabus, which can drive you through a perfectly customized path to enhance your skills in the concepts.
For that, Bytecode Security is delivering the Best Cyber Security Course in Delhi, which will be best for the students to discover a career path in IT Security from a very young age.
Cyber Security Diploma Course in Delhi
It Includes 12 Cyber Security Diploma Courses and Get Job Assistance
Cyber Security Courses after 12th
Oh, you're from 12th Standard and wish to learn cyber security skills. But, if you don't know where to start your cyber security career, then Bytecode Security can guide you to a systematic path from where you can kick start your career as an aspirant in Cyber Security.
You'll get the chance to learn cyber security skills with the latest techniques and tools available at the market with ease. Under the guidance of professional cybersecurity experts who have worked in the field of cybersecurity for a long time, you'll be able to find many amazing things.
Join Bytecode Security now! Find out your level of understanding in cybersecurity with the latest techniques and tools under the guidance of professional trainers. Looking forward to challenging your technology and security skills; this can be your chance to explore a broad ground.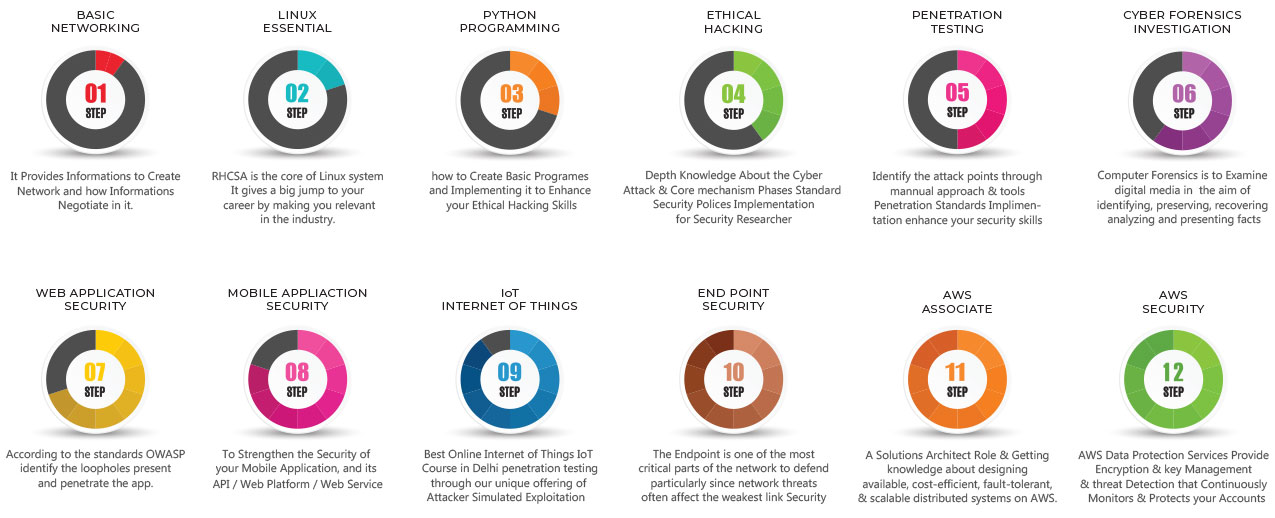 Frequently Asked Question
Student Review About Diploma Course | Cyber Security Course in Delhi