The world of technology is advancing rapidly, and with it comes a need for cyber security professionals to protect data and networks from malicious attacks and breaches. With the growing number of cyber-attacks, the demand for cyber security experts is at an all-time high. A Diploma in Cyber Security after 12th could be the best decision for those interested in a career in this field. In this blog, we will discuss the details of this program and why it is worth pursuing.
What is Cyber Security?
Cybersecurity is the practice of protecting internet-connected systems, including hardware, software, and data, from malicious attacks, damage, and unauthorized access. It involves using security measures to protect against cyberattacks, data breaches, and other online security incidents.
What is a Diploma in Cyber Security?
A Cyber Security Diploma is designed to offer students the skills and knowledge they need to safeguard and protect digital networks, information, and systems. The curriculum covers a broad range of topics, such as cryptography, digital forensics, ethical hacking, and network security. The program provides students with a solid base in cyber security and prepares them for a successful career in the industry.
Why Choose a Diploma in Cyber Security After 12th?
For those who have just completed 12th standard, a Diploma in Cyber Security after 12th  is a great career option. This program offers a comprehensive education and equips students with the skills required to become successful in the field of cyber security. Moreover, the program can be completed in a relatively short time period, making it the perfect choice for students who wish to start their professional journey quickly.
What are the Future Scope After Diploma in Cyber Security After 12th?
After completing a diploma in cyber security, there are several career paths you can pursue, such as a 
Security analyst,

Penetration tester, 

Network security engineer,

Information security specialist, 

Cyber Security consultant. 
Cyber Security Diploma Course in Delhi with 100 % Placement
Bytecode Cyber Security is a cyber security institute in Delhi that offers a diploma in cyber security and claims to have a 100% placement rate. However, it is important to research and compares other institutes and courses before making a decision, as the placement rate may not be guaranteed.
Best online diploma in cyber security after 12th
Bytecode Cyber Security offers an online Diploma in Cyber Security, which is designed to provide students with the necessary knowledge and skills to become successful cybersecurity experts. The course covers topics such as network security, web application security, ethical hacking, and more while also providing students with hands-on training and practical projects to apply their knowledge in real-world scenarios. If you are looking to pursue a career in cyber security, the online Diploma in Cyber Security from Bytecode Cyber Security could be a great option to consider. 
However, it's always a good idea to research and compare different programs to make sure it is the best fit for your needs and goals.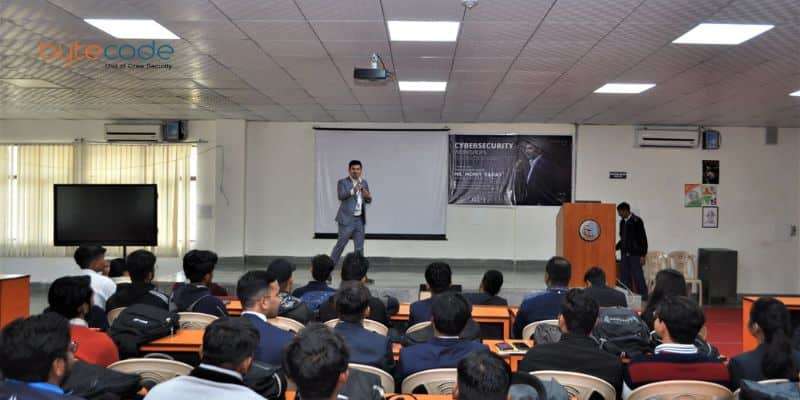 Best Institute for Diploma in Cyber Security After 12th
Bytecode Cyber Security Institute is renowned for providing the best diploma in cyber security after 12th. Their comprehensive and practical courses focus on giving students hands-on experience and preparing them for a successful career in this rapidly evolving field.
Frequently Asked Questions
Q. 1:
Which security course is best?
Regardless of your experience level or objectives, there is a cyber security course to suit your needs. Beginners may want to consider a basic course such as CompTIA Security+ or Certified Ethical Hacker (CEH), while experienced professionals may benefit from a more advanced course such as Certified Information Systems Security Professional (CISSP) or Certified Information Security Manager (CISM). With countless online and in-person options available, it is important to do your research and find the course that is best suited to your needs.
2: Is a Cyber security certificate worth it?
The value of a cyber security certificate is undeniable for anyone looking to advance their career in the cyber security field. It can be a great way to enhance their knowledge and skills to potential employers, giving them a competitive edge in job applications. Additionally, many industries and organizations have requirements of cyber security certifications, making it essential for certain career paths. Ultimately, the value of a cyber security certificate lies in the individual's willingness to invest the effort and expense to obtain it.
3: Is Cyber Security job hard?
Cyber security jobs can be challenging. Entry-level positions require an understanding of cyber security principles and techniques, while more advanced positions require a greater level of technical knowledge. Cyber security professionals must stay up to date on the changing threat landscape in order to protect their organizations from malicious actors.
4: What should I do after 12th for cyber security?
After 12th, you can pursue a diploma, degree, or certification course in Cyber Security by the best institute Bytecode Security . You can also consider pursuing a degree in Computer Science, Information Technology, or other related fields. Additionally, you can also look into free online courses and resources that can help you learn more about Cyber Security.
5: Is cyber security high paying?
Yes, cyber security is a high-paying field. According to the Bureau of Labor Statistics, the median annual salary for information security analysts in 2019 was $99,730.